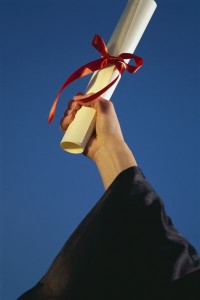 I graduated from college in December of 2007; almost 5 years ago now. I had a lot of ups and downs throughout my college career that made figuring out what I wanted to do with my life difficult. In the end, I settled on a Bachelor's Degree in Sociology, which, without a Master's Degree, got me a job at a pizza place. This was definitely not the shining moment in my life.
After 6 months of unsuccessful job hunting, I went in to my university and decided to apply to earn a Master's Degree, this time in Communication Studies. This was a good move on my part, as I am now a personal contractor/freelancer and am getting by much better than I did when I was trying to flop around with my B.A. in sociology.
This morning, I was reading an article on Yahoo! Finance, where Kiplinger shared the worst college majors for a bad economy. I was really intrigued by the article. Here are some of my thoughts:
I'm not surprised by the art stuff. A dear friend of mine just finished high school and is going to college. This week she's looking at art schools. Now, she was going to go into nursing, but realized that she wanted to follow her passion instead. Not a horrible idea, but she's realistic and knows that jobs in the art field are limited and hard to come by. You aren't going to be the next Picasso, and low-wage jobs may be your life for awhile, but if it's what you want to pursue, go for it.
Sociology and anthropology are degrees that you need a Master's degree to get a job in. I was told this going into my sociology program a year before I was going to graduate. Our sociology and anthropology department made that a clear indicator, and our senior seminar class involved more "let's get you to graduate school" instead of "let's get you out in the field." From what I understand, the research for this article was done for Bachelor's degrees; if you want to do sociology and/or anthropology, know that you will have to get a Master's to be able to land a good research job.
Graphic Design surprised me quite a bit. This shocked me. Now, granted, it is technically an "art" major, but I thought, with the rise of the internet, that graphic designers would be necessary. Apparently, the biggest issue is that there isn't a lot of growth in the graphic design field, which I can understand. Unemployment's quite high as well; it seems that any company that has the need for a graphic designer likely already has that graphic designer in their ranks.
What do you think about this list? Are you a successful worker that has one of these Bachelor's degrees? Or do you have one of these degrees and think that you wasted your money to be stuck in a retail job? Share some thoughts in the comments, have a great day, and we'll see you back here next week!