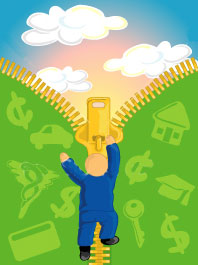 Did you know that the average American household with at least one credit card has nearly $9,200 in credit card debt? That's quite amazing isn't it? Looking at the number, it is a little hard to believe that the average is so high, but when you realize that our nation is built on credit, it becomes a little more easier to gulp down.
There's the good and the bad:
When I look at debt, I see it as two kinds of debt. There's the good debt and the bad debt.
You accumulate good debt when you're borrowing money for a student loan or for a home. You just have to make sure that you don't borrow more than you can pay back.
Bad debt is using your credit card to buy things like food, clothes, DVD, etc. This is the easiest way to fall in debt. When you get in the habit of buying things with your credit card, in return you also want to get in the habit of paying it off in full that month.
The general rule is that you don't want to get in a habit of using your card unless you plan on paying every back that month, this is the fastest way of falling in debt. Here I have gathered 3 general debt management tips.
Debt management tips:
Make a budget journal. Most people spend thousand of dollars without too much though as to what they're buying and that's why people are surprised at how high they're credit card is. Get a nice journal and start writing down everything you spend. At the end of the month you'll know not only how much you spent but also what you bought. This way, you will know what you can cut back on and how much less you want to spend the following month.
Pay off your highest-rate debts first. On average, most people have more than one credit card. The key to getting out of debt is to first pay down the balances on credit cards that charge the most interest rate while paying at least the minimum due on all your other debt. Once you finished paying off the highest rate, then start tackling the one next highest.
Expect the unexpected. You want to expect the worse can happen at any given time, so start making an emergency account. You want to have enough saved to last you 3 – 6 months of living expenses in case of those emergencies. If you don't have an emergency fund, a trip to the hospital or damaged car can seriously upset your finances.
If you end up with more debt than you can manage, then you should get some help whether it's from a professional or someone you know before it's too late. It may be embarrassing to ask a relative for some help but that's alot better than ending up with bad credit.