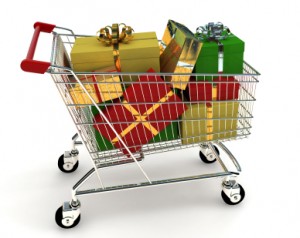 No! That time is here again isn't it? The giant yard decorations in Wal-Mart, the garden section has become inundated with Christmas trees and decorations, and this month or next, the Christmas Club money that you've been saving up is now in your checking account! A lot of people are done with their Christmas shopping by now, but what if you're not?
Now, before you run away screaming in terror, please wait and listen to me for awhile. Some people live for the early sales. Others wait till the last minute when your local store of choice is a royal mess. Does the thought of holiday shopping give you a case of hives when it comes to mind? It used to do that to me too, until I started following some friendly advice that I'm going to share with you today.
One thing that you should always do is hold out. If some of the gifts on your list are items that are bound to be popular this coming year, try to wait as long as you can. The sales will only get better as the holidays get closer. Now, if you're like me, the crowds just get to be too much as people rush to holiday sales. What do you do if that's the case?
Two words: The internet. The internet has come to the rescue of the socially anxious, the easily stressed out, and the last-minute shopper alike. The only issue you may have to deal with is lag and the very rare delays at the Post Office, and neither of those things are half as stressful as holiday lines, upset kids, and angry parents. Amazon even offers free shipping, which makes it cheaper than the gas and pretzel you need to go to the mall. What, you don't need a pretzel to go to the mall? I totally do.
Another great idea is to get creative. If you're especially good at something, why don't you utilize that skill or talent in order to give your family and friends unique gifts that are also cost-efficient? If you're good at baking, make your friends baked goods; who doesn't like them? I have a friend who cross-stitched some different things for her friends to hang on their walls one year. Another friend made miniature scrapbooks. Remember, gifts don't have to be extravagant to make the recipients happy; they just need to be from the heart.
Lastly, always be sure to look for sales, compare prices, and to utilize coupons and rebate offers. If you want something, start looking for coupons for that specific item. Go to their company website or the websites of places that may offer that item and see if you can find those killer discounts you may be looking for.
What hints and tops do you have about holiday shopping? Have you started already? Are you done? Are you laughing at me because you haven't even started yet? Share some thoughts, have a great weekend, we'll see you here next week!