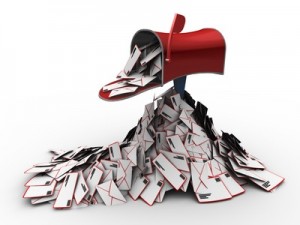 I don't check my mail every day anymore. I know that sounds silly, but there's really no need to. I get magazines every once in a while, correspondence from my church, cards around my birthday and Christmas, and a whole lot of junk mail. I don't really even get my bills in the mail anymore, since I switched most of them to e-bills. So, it's not necessarily a bill in the mail that drives me crazy anymore, it's those bills in my email inbox.
There have definitely been some times in my life where it's been hard to get by, where the bills haunted me instead of merely annoying me. In those times, I've had to sit down and figure out exactly what bills to pay first, and deal with the other ones as I was able. But, how do you do that? What bills do you pay and what ones do you hold off on.
- Anything regarding shelter comes first. Rent payments, mortgage payments, property taxes, whatever it takes for you to keep your home, just do it. You may have to forgo other things in order to make ends meet, just make sure that you have a roof over your head. You can worry about the rest as you get to that point.
- Should keep your mode of transportation too. This is especially important if you have a job where you have to drive. So, if it involves car insurance, car payments, and even the money you put aside for gas, make sure that this stuff is taken care of right after the roof over your head. I know it seems a bit odd, but make sure that you've got a way to get places when you need to.
- Lastly, anything that can murder your credit report.  Car payments and mortgages obviously fall into this category, but there are a few other things that you should worry about when it comes to bill priority. All bills have the potential to hurt your credit score, but credit cards, student loans, and private loans have the most potential for murdering your credit score after one missed payment. So, watch out for those, and try to get them paid. Then worry about the other ones as you can.
If you are struggling with making monthly bills, call the companies that you pay. Many companies are flexible with changing due dates, and certain companies (the electric company, especially) offer programs where you can pay the same amount year round. I'm planning on doing that with my electric company here soon, because my high summer bills are almost silly compared to the rest of the year. Air conditioners kill your electric bill, let me tell you.
Have you ever been in a spot where you had to make a decision about which bills to pay and which to hold off on? Where did your priorities lie? What did you do to make ends meet? Share some thoughts in the comments, have a great week, and we'll see you back here next Tuesday.