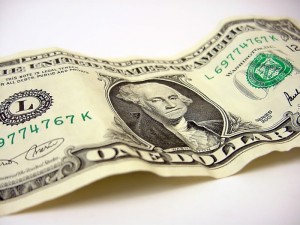 A while ago, something started to be built where my town's Circuit City used to be. And I was fascinated; I had never heard of this store before. What was it?
Five Below.
If you've never heard of a Five Below, let me assure you, it is possibly the most amazing thing that has ever been created on the face of this earth. Okay, maybe not, but it's a giant store, similar to a dollar store, that sells everything for five dollars or less. Some of the stuff that I've found there is amazing! It includes:
- Candy. Even the type you usually only find in the movie theatre.
- Arts and crafts stuff. For really, really cheap.
- Toys and games. I found a couple of my favorite card games to give away there for 3 bucks.
- Snacks. I've found the weirdest snacks at Five Below that I've ever found in my life. All of them. And they rock.
But that's not all Five Below and other dollar stores are good for. Especially in this current economic climate. You can get some great deals on stuff you'd never expected to find. Here's a couple more thoughts about dollar stores.
Did you know you could find name brand stuff at dollar stores? Crayola crayons, Huggies diapers, various name brands of toothpaste, and a variety of other name-brand items can be found at dollar stores. You just have to go to the right ones and look around.
Remember, just because dollar is in the name doesn't necessarily mean it's a "dollar" store. Dollar General is the one that comes to my mind, where they have some items in the $20 range, even though a majority of their items are insanely discounted from normal retail costs.
Food is a little harder to find at dollar stores, especially fresh and frozen. Snacks are usually a piece of cake; you can find candy bars for cheaper than the grocery store and usually aisles of chips and other salty snacks. Now, watch these prices; they may not be as good as your grocery store's, or they may be the same. You just have to keep an eye on it. On the other hand, there may be snacks at the dollar store you can't find anywhere else.
Lastly, dollar stores are a great place to get little toys for your little ones. Or, well, for yourself. I collect dice, and I've found a bunch of dice at the Five Below for mere pennies. They aren't the best toys in terms of durability, but there's usually something for everyone at a dollar store.
What's the coolest thing you've ever found at a dollar store? Do you regularly use dollar stores to save you cash? What will you never buy in a dollar store? Share some thoughts in the comments, have a great week, and we'll see you back here next week!