Digging your way out of credit card debt can be an overwhelming and feeling hopeless.  It is embarrassing for friends and family members to know that you're struggling to pay your bills. You also may be tossing and turning at night thinking about how to get out of your current debt situation. You are not alone. With hard work and discipline, you can work your way out of debt!
If getting out of credit card debt is something you want to accomplish, then there are some basics you need to follow. You need to know what is on your credit report and understand why it is there, develop a plan to pay down that debt, and change your way of spending so that you can avoid repeating your mistake.
The first thing you need to do is to find out what the creditors have on report for you. Why is this important? A credit report is your personal record of your credit payment history as reported to credit bureaus by bank, credit card companies, department stores, and other types of businesses you've borrowed from. This is where potential lenders get information that will determine the decision on whether or not they want to take a risk issuing you credit. It's very important to understand how credit reports work because you can protect your rights and avoid being taken advantage of by credit repair clinic and the so-called credit doctors.
If you are considering on purchasing a home or applying for any other types of loans, you will need a good credit report. It is always good to know what is on your credit report before your lender looks into it, this way you will have the opportunity to clean up any mess or errors you may have on your record. You may also want to consider canceling any credit cards you are not using because lenders will include your credit limit as potential debt. If you have credit cards with no balance but with credit limit totaling $10,000, for example, the lender will consider it as an additional $10,000 of potential debt and may reduce the amount of the loan they are willing to give you.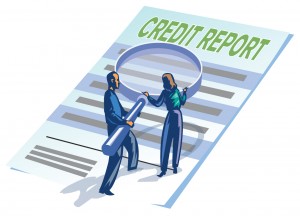 Whats in a credit report?
Your credit report includes basic personal information such as name, current and previous addresses, telephone number,  social security, date of birth, and current and previous employers. The credit history portion includes information about each credit account, including things like when the account was opened, the credit limit, current balance, monthly payment, and your payment pattern during the past several years. In this report, they also include any bankruptcies, accounts sent to collection agencies, unpaid child support or alimony, tax liens, bounced checks, unpaid traffic/parking tickets, car repossessions, evictions from apartments, court records, and names of businesses or individuals who have obtained a copy of your personal credit report. Your credit report pretty  much reports everything that lenders may be interested in knowing. Some information that your credit report does not contain is information about your race, origin, religion, personal lifestyle, political affiliation, medical history, or other information unrelated to your credit history and ability to repay credit debt.
Review your entire credit report. Most financial advisers would recommend that you obtain a copy of the free credit report that you are entitled to once a year and review it carefully. If you have been rejected or turned down for credit, housing or employment due to your credit report, you may be entitled to a free copy of your credit report as well. There are three main credit bureaus that are available to you: Equifax, Experian, and TransUnion. All other credit companies obtain their information from one of these three. Since the information in your credit report may differ somewhat from one bureau to another, it is wise that you obtain a copy of your report from each of the three major bureaus once a year. If you cannot afford all three credit bureaus, then consider ordering your report from Equifax since it is the largest reporting bureau. Upon receiving your credit report, if you find an error in the report you can call or write to the credit bureau explaining the error in detail in 100 words or less. You want to provide any documents that may help prove your statements.  Your payment history will stick around for a long time. Chapter 7 bankruptcies will stay on your credit report for ten years from the filing date and Chapter 13 bankruptcies will remain on the report for seven years from the date fully paid or ten years if not paid as agreed. Unpaid tax liens may stay on your credit report as long as fifteen years.
So how do Lenders use the Credit Report?
Lenders typically use the information in your credit report to evaluate your personal character, your total debt capacity and your collateral or capital. Their study of your character is also based on the stability of your employment and residency history. They will check to see how often you have changed jobs, how often you moved and the length of time you stayed at each address. These kind of information gives the lenders a feel for your personal stability and an overall general assessment of your character. To evaluate your debt capacity, they will look into your living expenses, open credit account limits, current debts, and other payments to get a feel of how much debt you can afford with your current spending habits and your income. Another huge factor that goes into the lenders decision on lending credit is your credit score. Your credit score is a number or rating which indicates how likely you are to make payments on time and repay loans, based on information in your credit history. This score is computer generated and factors in your current income, education, job stability, how often you have changed addresses, whether you are a home owner, debt to income ratio, and past payment history.
You may obtain your credit score, or FICO score for a fee. All three major credit bureaus offer this option with your credit report or as a separate option. If you find that your credit score is not so great, do your best to improve your credit score by concentrating on paying your bills on time, paying down your credit balances, and avoiding new debt. Improving your credit score is not an over night task, and may take a long time, but is well worth the effort.