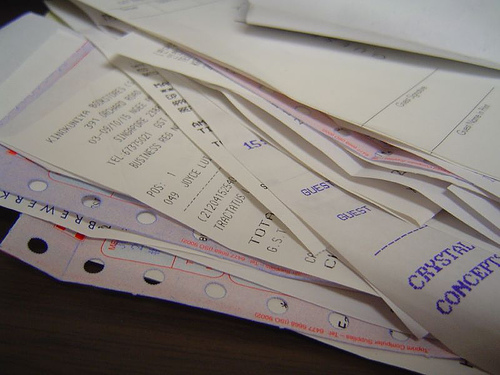 I have a friend who has been keeping his receipts for as long as I can remember. I guess you can say that he's a receipt freak. He keeps them to enter into his money tracking system to keep track of his budget.
This is all very understandable and some what commendable for being so organized but I asked him, "why not just use your debt card like I do and keep track of your spending that way". He replied " because I like paper and I like to organize them!"
Apparently, he keep them filed away in a very organized folder on a monthly basis. I was amazed.
What did I learn? I guess there are people who just likes to keep their receipts and hold on to them.
So for all you receipt lovers out there, here are some tips I want to share with you on proper receipts handling skills:
Establish a simple routine for dealing with your receipts as soon as it comes into your hands and stay consistent. You can for example leave a space in your wallet or purse just for receipts and every time you purchase something. When you get back home, immediately put the receipts into an organized folder. This way, you don't have to think about where you put your receipt and don't have to waste time looking for them.
As soon as you receive your receipt, look for missing or faded information and fill in that spot immediately. There's nothing more frustrating then trying to read the receipts' date or price long after the fact when you've finally gotten around to putting into your data entry.
For those of you who likes to fold your receipts, fold it so that the printed side is uppermost. This way, it will be easier to find the receipt if you ever have to look for it. When you fold a receipt so that the printed side is hidden, all receipts look alike and you'll have to unfold them all to find what you're looking for.
Don't let the data entry pile up. It's a good habit to schedule a time every week to do the necessary data entry and make sure to stick to that schedule. If you don't, you'll find your self just putting it off and your piles of receipts will become even more ugly.
I hope these tips can help you out some way or another. Keeping track of your receipts is really nice and handy, but the trick is to being able to keep them organized. Good luck, I think I'll stay with the online statements