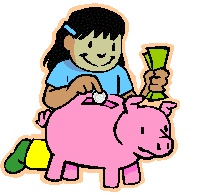 One of the most important life lessons you can teach your kids is to develop successful money management habits  and  a sense of financial responsibility. When it comes to teaching your kids about money, the sooner they learn the better.
Help your child understand the value of saving money.  Here is where you start showing them the importance and the  benefits of saving money. This can be done with a simple but balanced form of an allowance. While they are young, giving them small amount of money will help them prepare for the future when the amount becomes larger.
Discuss the privileges and pitfalls of owning a credit card.  Show that credit cards can be a very powerful tool which could help you dramatically with your finances and also in return, how you could misuse a credit card and how much that could affect your life.
Give your teen 'real world' experience with money and budgeting. Instead of buying their yearly school clothes yourself, give them a set amount and let them decide what they need and what they don't need. Emphasis that that is all they are getting so chose wisely.
Teach your child how to track spending. Get them in the habit of tracking their spending by either getting a notebook or a creating a simple excel spreadsheet on your computer.
Cover the basics of investing. It's never too early to start explaining the general overviews of investing. The earlier you start, the better they're equipped when it's actually time for them to start investing.