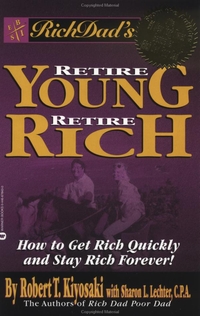 One of the Chirstmas gifts I got this year was a book called Retire Young Retire Rich, from the same author who wrote the best seller Rich Dad Poor Dad, Robert Kiyosaki. I am looking forward to reading this book and possibly share some key points and post them here. My goal is to read at least one chapther a day so that means I should be done in twenty one days which is the 16th of January.
So far I have read the introduction to the book called "Why David Met Goliath" and want to point out some parts that I liked. Robert Kiyosaki talks about how one the most important word in the world of money is leverage. He says, "Leverage is the reason some people become rich and others do not become rich." The book is broken up into four sections based on leverage.
The leverage of your mind (chap 1-8)
The leverage of your plan (chap 9-13)
The leverage of your actions (chap 14-20)
The leverage of the first step (chap 21)
In the introduction, he noted that David and Goliath was one of rich dad's favorite stories. Saying that he suspects that his rich dad may have seen himself as David, a man who started with nothing, yet to rose to compete against the giants of business. Rich dad said,"David could beat Goliath because David knew how to use the power of leverage. A young boy and a simple slingshot were far more powerful than the feared giant, Goliath. That is the power of leverage."
I'm looking forward to starting this book.