As of this post, Paris has 202 days, 6 hours and 15 minutes until she retires.You're probably asking, "What does she have to retire from? Her sex tape?" That's the same question that I had when I first had came across an article from MSNBC, but apparently it seems that she plans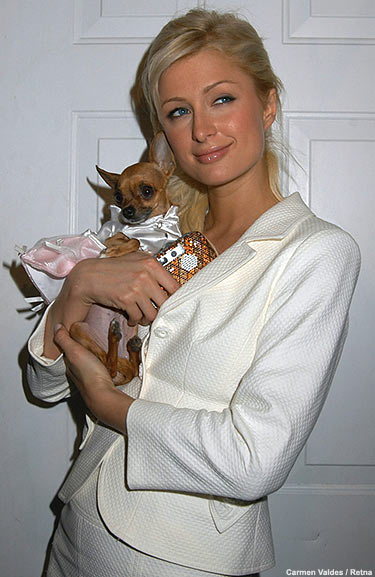 on retiring from her public life within the next year.
It appears that the general image that we all have of Paris is not quite the case. She claims that she is just acting up when she's in public and that she is a business woman at heart.
"I think maybe when I was younger, I thought it was cute to play the dumb blonde," she says. "On TV, I do it because it's funny. I consider myself a businesswoman and a brand."
I don't know how serious this may be, considering she still spends a million and 5 minutes on her cell phone with her hair stylist. But it seems that when she is talking about her business ventures (Paris Hilton perfume, jewelry, nightclubs and dog accessories, not to mention her movie career), her inner airhead gives way to a voice that's much slower, deeper and (dare we say?) serious.
I can tell her that she's a lot smarter than the woman who once asked if Wal-Mart was a place to buy walls. Then she'd respond telling me " I know exactly what Im doing…"
Whatever may be the case, she has managed to make her self an icon. There is one thing that I want to point out what she does whenever she's in public, and I think its brilliant. Wherever you may catch her, be at a party, a club or in just in front of a camera, I noticed that she always, intensionally or unintentionally, advertises things she's affiliated with. This is brilliant because she's helping those companies whenever she talks about where she got her designer dress from or where she went clubbing the previous night, or even if she talks about how she got her burgers from McDonald's. Paris does this quite often and I'm sure whoever is the receiving end, they're saying to themselves, "Thank god she talks so damn much."
Well, according to Newsweek, Paris plans on retiring sometime near June / July of 2007. I'm not sure exactly how accurate this date is but I like set dates so I'm gonna take it.
Here's some interesting quotes from Paris. Knock yourself out.
"Every woman should have four pets in her life. A mink in her closet, a jaguar in her garage, a tiger in her bed, and a jackass who pays for everything."
"Who are you wearing?"
"Thank you, officer. We love the police."
"I don't really think, I just walk."
"Wal-mart… do they like make walls there?"
"It will work. I am a marketing genius."
"This is Earth. Isn't it hot?"
More info…
| Hilton Hotels | |
| --- | --- |
| Recent Price | $25.31 |
| Market Cap | $9.74 billion |
| 52-Week High/Low | $18.78 / 29.22 |