Do you want to make six figures? Ofcourse you do! There's a list of 10 actually on Forbes.com but I figured since we're dealing with six figure jobs that I pick six out of the ten. While a nice degree in business would help, I found some pretty neat jobs here that doesn't even require one. Check em out.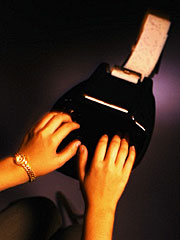 Court Reporter. If you're able to type 200+ words a minute, then this may be your job.
Mine manager. This profession has a median salary of 106,000 bucks a year and is said that a college degree is not always required. Okay, Claustrophobia aside, if you got the project management skills you could be making six figures!
Sales person. This job is actually considered as one of the easiest high paying jobs out there, and I don't know why. But if you got the communcation skills and can handle rejections, you'll make big bucks.

Truck drivers

. This is definitely my favorite one. I never knew that they made so much. Looks like this profession requires you to be out on the road for weeks at a time, but hey this job can pull in 100,000+ and that's not including benefits.

Tech writers. For those of you that are able to write about tech relating issues with the ability to write them in a way to make the majority understand, then you could be making big bucks. Just like john chows techcrunch eh?
Elementary principles. The national median salary for this job is actually 76,000 a year but if you live in those higher income areas, then you're good to go.
Now here I am in school, studying computer science to become a software engineer. What was I thinking, I should just drop out of school right now so that I could become a truck driver and be making 100k, right? WRONG! Well, salaries aside, I think that people take the income part too seriously. You have to keep in mind that money can't buy everything and that it's really over rated. If I could chose between a high paying job that's gonna make me miserable or a job that I enjoy that's gonna hit me for about 50-55k a year, I'll take my comp sci degree anyday. I'm gonna be working for at least the next 20 years of my life so I expect to enjoy it. Now don't get me wrong, I would love to make 6 figures. And eventually I expect to, all I'm saying is I wouldn't trade it for something that I woultn't enjoy doing.