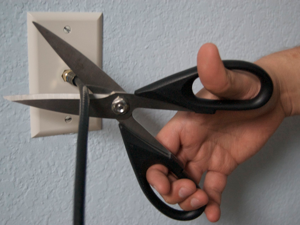 In 2010, the residents of the city of Raleigh, NC, spent more than any other American city on cable and satellite TV to the tune of $1,033 a year. And that was an average. Did everyone get premium packages in Raleigh or what? The average American household that same year spent around $550. For some people, that's a nice chunk of their income.
That brings up an important question: Is there a way to reduce or eliminate that sometimes overbearing expense? I think so, considering I've been without cable for a couple of years now. Here are a few ways that I've coped with not having cable in my home.
-        The Internet. The internet is quite a good alternative for cable. Between finding silly videos on YouTube, playing games on various websites, and using Hulu and station websites to watch my favorite shows, I'm highly entertained for much less a month. I also listen to baseball games on there for $20 a year, satisfying my sports fix as well! Do some research, and you can find some great alternatives online.
-        Netflix. Netflix and Blockbuster Online are both high-quality services that offer both movie rentals and online streaming. I don't use the rental service, I only use online streaming, and I don't feel like I'm missing anything. Newer movies aren't on there, but I'm not a huge movie watcher. So I'm satisfied watching all of the great options they have… seasons upon seasons of various TV shows make me quite happy.
-        Digital Converter Box. I have said I was going to invest in one of these for a really long time. I still haven't, for one reason or another. It's just like the old rabbit ears you used to be, but in a little box you hook up. You get like 5-7 channels, depending on what's available where you live, and it's only for the cost of the box (approximately $50).
-        Books. Some of you are going to look at this and say that you don't like to read. I understand… but everyone does like a good story. If you prefer audiobooks over sitting down and reading a book, then join an audiobook club like Audible. For less than a month of cable, you can get tokens for 1-2 books a month that you can listen to. It's TV for your ears!
-        Radio. One of the biggest reasons that I watched TV in college was to create background noise while I was studying or writing a paper. After college, I realized that that same thing could be accomplished by something that I could get for free… the radio. Whenever I do work or chores, I turn the radio on, and all it costs is the minute amount of electricity it takes to run it.
If you've ever considered dumping your cable, these are some solid options for you. It's worked for me thus far, maybe you should consider it in order to save some big bucks. Have a great Thanksgiving, and we'll see you back here next week!