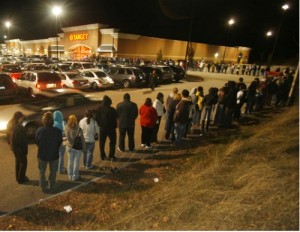 Okay, was anyone else really confused when they looked at the calendar this week and realized that Thanksgiving is next Thursday?  Yeah, I was a bit confused too. It's earlier than it has been the past 3-4 years. Throws you off a bit, doesn't it?
Anyway, this picture reminds you of what happens on Thanksgiving night (since a lot of stores are starting to open their doors at 10 PM on Thanksgiving Day) or on Black Friday morning, doesn't it? In our country, Thanksgiving is often a kick-off to the craziest shopping weekend of the year.
But, along with great deals, we sometimes end up with stress, frustration, or a general feeling of "meh." How can we make Black Friday a more enjoyable experience while still getting great deals? Here are some tips for your Black Friday expeditions.
1. Get the retailer's ads early. Guess what? Most retailers have jumped on the boat and, instead of having to dig up spoiler ads, they're printing them early! Target has been poking at me lately with teases of their Black Friday deals, and Amazon has all sorts of stuff ready to roll as well. So, just search online and you'll be able to find exactly what you want. Just Google "Black Friday Sales" and a bunch of useful websites will be at your fingers in minutes. Then, make a list and check it twice.
2. Get a good night's sleep. Before you go Black Friday shopping, take advantage of the tryptophan in the turkey that makes you sleepy and sleep. Many people in the stores are grumpy just because they haven't gotten enough sleep. So, take a nap the day before and wake up early, or go to bed early. Yes, I know there's football. But sleep, and you'll feel much more awake when chasing those early morning sales.
3. Consider the sister movements to Black Friday: Small Business Saturday and Cyber Monday. Is Black Friday a little too crazy for you? Then why don't you consider the other things that happen the weekend after Thanksgiving? Small Business Saturday started a few years ago as an effort to push more people to buy from local businesses. And Cyber Monday was created by the companies who are primarily online (Amazon, eBay) for more shopping goodness. Some brick-and-mortar retailers are in on Cyber Monday too, offering deals you can't get in stores.
4. Start earlier! It seems that we're moving toward a trend that the two months before Christmas are meant for great deals. Now, obviously, it's a little late for that now, but maybe next year you'll want to consider starting to look at deals as early as mid-October. Yes, thinking about Christmas before Thanksgiving. I know. It's crazy, but it's the trend!
Do you go crazy on Black Friday, trying to get those awesome sales before everyone else does? Or do you sit at home and enjoy the madness that ensues from your television or on the web? Share some thoughts and tips in the comments, have a great week, and we'll see you back here next week!