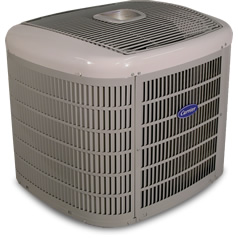 There's been a bit of a heatwave here over the past few days. I've been in shorts and t-shirts, hiding in my room with my A/C unit cranked and a fan circulating the cool around my room. It's quite a nice arrangement, really. Well, other than when I have friends over; they aren't always the most comfortable temperature wise.
Today's been the coolest day this week, thus far. Now, it's only noon, so who knows if it's going to stay that way. One of the biggest issues that people have with their budgets during the summer is those darn expensive cooling costs. I know my electric bill doubles in the summer because of it. So, what are some things that you should know when trying to save some cold cash on cooling costs? Here are a few thoughts.
Every degree you turn the thermostat up (if you have central air conditioning) can save 3% to 4%.There isn't that huge of a difference between 69 degrees and 70 degrees, is there? If I had central air, I'd deal with the degree difference and save some cash in my pocket.
Now, that being said, I live in an apartment, and I don't have central A/C. I just have a unit in my window in my bedroom. So, on those days that it's not incredibly hot out, instead of turning the air conditioner on, I'll open the window in my living room and the window in my bedroom and enjoy the cross-breeze that flows through. It keeps the house cool and it gives me some fresh air!
Energy efficient homes save a lot of money on their cooling costs in the summer, as well! Put in insulation; it keeps the cold in during the summer. Put in new windows, especially if your windows are letting in some heat. Do everything you can to up your energy efficiency, and you can save some cash on your cooling costs. And, as an aside, you get tax deductions for making your home more energy efficient as well! Sounds pretty good to me.
One of the really bad things about this past week is all the thunderstorms. It's been absolutely humid, and the humidity can kill your cooling budget. The more humid it is, the hotter it feels. The hotter it feels, the more energy it takes to cool your home. Take cooler showers, cook with lids on your food, and consider getting a dehumidifier. Do everything you can to make sure your house isn't incredibly humid. It'll help you resist the temptation to crank your A/C too high if you aren't feeling both hot and sticky.
What other hints do you have for chilling out your cooling costs? Do you just eat that in your budget, or do you try to make yourself as comfortable as possible for as little as possible? Share your tips and tricks in the comments, have a great week, and we'll see you here next week.