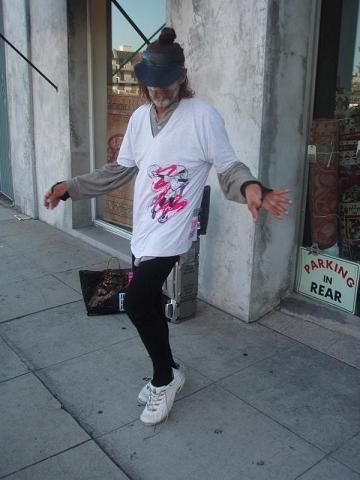 There was an article that made it to the front page of yahoo that linked to an article on The Wall Street Journal about a homeless man, John Wesley Jermyn, who is often seen either on roller skates or dancing, inspired a new brand name of clothing line called "The Crazy Robertson". If you have 98 dollars to dash out, you could have one of his graphic hoodies.
What caught my eye was that he now also have an agent and a manager, to manage his profits of his clothing line. At this point I'm thinking wow, a manager and an agent, I guess he suddenly made it pretty big and has a pretty nice stack of money in some bank account somewhere but thats far from the truth. Although its not much money, Mr. Jermyn has specific ways he wants to be paid. Interestingly, he doesn't want any cash or anything that is of any value, at least our definition of value. All he wants is food, liquor and some paper for his art projects.
"But so far he has refused to accept much cash, preferring to be paid in food, liquor and paper for his art projects, according to Teddy Hirsh, one of the label's founders."
In order words, he only wants what of any value to his life, which happens to be food, liquor and art projects. Not a new Ipod, or a computer, or some expensive unnecessary gadget from Best Buy. He basically lives his life according to his own lifestyle that he is used to and doesn't like to involve any money in his daily life and therefore does not depend on society for anything. I like this article because I like that he values his life style and won't change even if he had money. It is evidence that show it is possible to live without all the extra stuff we have and long for.
Mr Jerymn and I live on the same planet but apparently two completely different lives. So much of our daily lives involves monetary issues and we strive to perfect our social order, but sometimes I wish I was in an environment somewhat similar to Mr. Jerymn's shoes, or roller skates rather and skate along freely. When we see Mr. Jerymn, we see him as being trapped and being extremely limited. But in a way, it's quite the opposite, we're the only ones who deal with all these problems we deal with money. It's a interesting concept but really, money is the only thing that limits us and clearly, because Mr. Jerymn does not reply on money, he is free and unlimited.
Keep on dancing Mr. Jerymn, you rock!