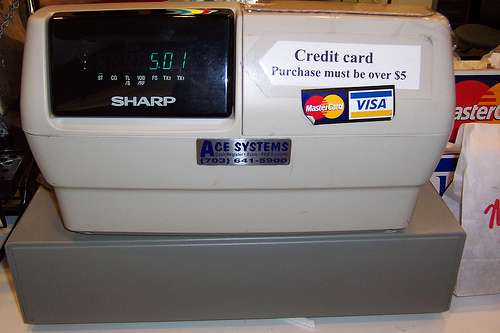 Last week I had briefly talked about how you shouldn't cancel any credit cards before applying for a loan and that brought me to write up a general post on credit cards.
You may already have a credit card, but if you don't I can almost guarantee you that there will be many opportunities to get one once you step foot on campus. There are many credit companies who set up tables on college campuses to encourage students to sign up for their credit cards. They even offer neat gifts like T-shirts, water bottles, key chains, pens, mugs, etc. in exchange for having you fill out an application. It all sure sound easy and tempting but you want to think twice before you do it.
Just like loans, credit cards can help you build a positive credit report. Having a nice credit history can help you in many ways like receiving private loans, buying a car, renting an apartment, even helping you get a job. There are tons of advantages of having a credit card but in return, it can also affect you negatively if you misuse it.
Like most things, there are advantages and disadvantages to credit cards. Knowing some of these can help you decide if you do or do not want to use credit cards.
Here are some advantages for credit cards.
Credit cards are becoming more and more widely used
Great way to keep track of your expenses
Helps in times of emergencies
Reduces the need to carry cash or checks
Helps build responsibility and independence
Helps to improve credit score
Credit card offers rewards
Protection of purchase
and obviously, its very convenient
Onto the Disadvantages…
Easy use = easily in debt
Credit cards not paid on time can have negative effect on credit score
Credit cards can be confusing and stressful
Have complicated terms and conditions
Allows you to build up more debt than you can handle
Can have high interest rates and fees
Credit cards can make life a lot easier and be a great tool, but if they aren't used wisely they can become a huge financial burden. We live in a society of "I want" culture and a "I want it now" one at that. Credit cards is definitely something that will always be growing more and more in demand and only when we start to learn how to manage our finances and how to save money will we ever get rid of the burden that associates with debt.