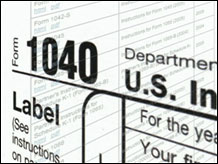 So it's that time of the year where everyone is gathering all their paper works and getting ready to fill out those tax forms. Almost everyone I know has already filed their taxes, and so I guess that leaves me. Well the reason for that is because I have been pretty busy these last two weeks, and also I'm kinda paranoid that I might not file them correctly if I rush and not get back as much as I could, so I waited. My goal for this week though is to get all my paper work together and get it done this weekend. This past year, I paid a little over $4000.00 in taxes so it looks like I should be getting back around $2,500.
So what is my plan for my tax return this year? Buying new clothes? Adding more DVDs to the collection? Going on a nice trip to Hawaii with the Girlfriend for spring break? Nope, it's better. Instead, every penny that I get back it's all going to help pay off my debt on my credit card. So after my tax return gets here, I will be extremely close to being debt free. I can't wait. That gives more of  a reason to file my taxes asap. So I hope that I will be able to do so this week.
After getting out of debt, I can finally start contributing to my Roth IRA and so much more other fun investment funds.