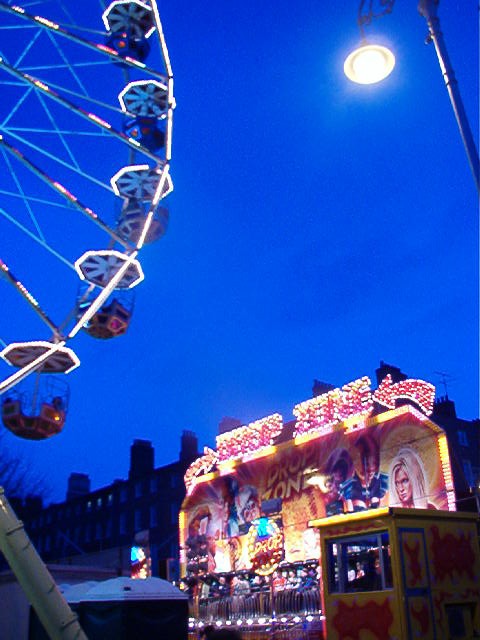 Hello and welcome to the second edition of Money Stories, where people share their personal experience/stories dealing with finance. I want to thank all the contributors for this weeks successful carnival, we have a total of 29 submissions. I also want to take this opportunity to let everyone know that I am looking for people to host the upcoming editions of Money Stories so please send me an email if you are interested. Without further delay I proudly present to you Carnival of Money Stories.
Investing
Sam presents Stock Investment Fraud Exposed. Swindler Plays the Game Well posted at Surfer Sam and Friends.
Robert D Flach presents EVALUATING TAX-FREE INVESTMENTS posted at THE WANDERING TAX PRO.
Ruben presents My Lot and My First Five Days Earned $17.67 posted at Turn Your Blog Into Money Making Machine.
English Major presents An English Major's Money: Earning My Dad's Respect posted at An English Major's Money.
Silicon Valley Blogger presents Christmas Is For Kids, And Don't I Forget About It! posted at The Digerati Life, saying, "Hi Andy, Was wondering if you could include business stories too. I was hoping to include business based stories as well since I think there are a lot of people who have stories on money making as well as financial topics. Just my .02. thx for your consideration! -SVB/Curly tree"
Credit
Steve Faber presents Credit Card Tactics to Watch Out For posted at DebtBlog.
Sagar Satapathy presents A Tale Of Two Towers posted at Bankruptcy Reader.
Debt
Kevin Surbaugh presents Kansas To Consider Capping PayDay Loan Intrest posted at Becoming & Staying Debt Free, saying, "Melody McCray-Miller, a Wichita Democrat is hoping a measure she plans to introduce in the upcoming legislative session – which could include and interest rate cap similar to the one that drove the payday loan industry out in North Carolina – would make "predatory lending" less lucrative in Kansas."
Erek Ostrowski presents Getting Out of Debt (Part 1) posted at Verve Coaching, saying, "Real, practical advice for eliminating debt."
General
Madeleine Begun Kane presents Working Stiffed posted at Mad Kane's Humor Blog.
Wenchypoo presents Post-Holiday Commentary posted at Wisdom From Wenchypoo's Mental Wastebasket.
Ben presents My Money Secrets Revealed! posted at Money Smart Life, saying, "A recent interview that covers my money mistakes, why I write about personal finance, how long I've been saving, and things I've given up to save money."
Matthew Paulson presents Why I Don't Buy From Quixtar posted at Getting Green.
Corey presents The Battle With PayPal posted at myopiniononeverything.com.
Scott Lee presents Dirty Mechanism » Results of the Law of Attraction in Action? posted at Dirty Mechanism.
David presents You Blew Your Budget? Congratulations! posted at Worldwide Success, saying, "The beginning of the year is the best time to review how we did against our budget in the previous year and to put together a budget for the current year. Unfortunately, many times what we find is that we blew our budget. Getting your spending under control is absolutely critical to your financial success! So, why in the world am I congratulating you for blowing your budget? I'll explain in the article."
makingourway presents Happy New Years Wishes & makingourway's Blog Plans for the year ahead posted at makingourway, saying, "makingourway's financial plans for 2007 including investing, savings and career."
Bill Losapio presents Did You Feel the World Financial Foundation Shake? posted at Bill Losapio, saying, "Discussion of Iran's switch to the Euro. My site is best viewed in Firefox. Good luck with the new carnival!"
Kirby presents IKEA, Deep Impressions and Ice Cubes posted at Kirby on Finance, saying, "Thanks for hosting! This post recants the story of my attempt to find a way to save some money after some moved furniture created some deep impressions in my carpet."
Net Worth
makingourway presents Collecting and spending: My Big Pile of Comic Books posted at makingourway, saying, "I collect comic books. The collection's value is approaching $17k – according to rprice guides – is it really worth $17k?"
Mister Juggles presents Additional Ways to Raise the Bar at Bonus Time posted at Long or Short Capital.
Other
Silicon Valley Blogger presents House and Mortgage Juggling: One Tough Financial Act posted at The Digerati Life, saying, "Another real estate post for you!"
Nina Smith presents Ten Money Questions for Stewart Lewis posted at Queercents, saying, "Stewart Lewis has many talents: he writes novels and makes music. He is what the world would label a creative type. As you'll learn, his bank account has grown with each artistic success, but that doesn't mean he ever intends to balance his checkbook. Queercents asked Stewart to get personal about fame, fortune and the pursuit of happiness. Here are his money thoughts…"
John Hill presents Law of Tenfold Return posted at Universe Of Success.
oovs presents What?s your Money Type? posted at LifeTraining – Online, saying, "(not sure if this is an exact fit, but your readers may like it)"
emigre presents LoudLaunch official launch posted at emigre, saying, "Paid blogging can pay off with disciplined hard work – check out the latest paid blogging site."
Nina Smith presents Ten Money Questions for Lane Hudson posted at Queercents, saying, "Last September, blogger Lane Hudson posted improper e-mails sent by Mark Foley to a congressional page. Dubbed the Washington Whistle-Blogger in Time Magazine's Person of the Year issue, Lane experienced moments of fame, but struggles financially today because of it. Queercents asked him to give us his thoughts about money, politics and the price tag of activism."
Leon Gettler presents Is Steve Jobs untouchable? posted at Sox First, saying, "Is Steve Jobs untouchable? That's the question being asked in the wake of the backdating scandal. Apple's stock price has increased more than 1000 per cent since 2001, and analysts say it would collapse if Jobs were to leave. But now shareholders have filed a suit against the company."
Bill presents A Popular, But Stupid, Idea posted at Ask Uncle Bill.
That concludes this edition. Submit your blog article to the next edition of carnival of money stories using our carnival submission form. Past posts and future hosts can be found on our blog carnival index page.