So your looking in to buy a home? Well if you have the patience to buy and to hold these properties, then these opportunities can hold a great deal of returns. These are the top 5 cities, where to buy now, Check em out!
Panama City, Florida
Vero Beach, Florida
Bridgeport, Connecticut
Lakeland, Florida
McAllen, Texas
1. Panama City, Florida. Panama City now is poised to host big airliners, which in turns means more visitors and a lot more buyers. In 2008, the state and the local government and top regional developers are planning to build an airport thats gonna be over 300 million dollars in costs. Locals expect the airport to open up the region and bring in some aggressive traffic.
The projected gain in 5 years
 Median home price
2006: $223,000          72% Increase
2011: $383,00
2. Vero Beach, Florida. The weather down here is great, has low property taxes, and a cost of living 3% lower than that of nearby West Palm Beach make this town an affordable place to live. Expert says that vero beach is at high risks in the short term but will move up in the long run.
Median home price
2006: $235,000          64% Increase
2011: $386,000
3. Bridgeport, Connecticut. The last place you'd expect to find under valued houses is in the Fairfield County, home to towns like Greenwich and Darien. As more businesses have left New York for Greenwich, more middle-class workers like entry-level professionals, executive assistants, and so on will have come too, and they're keen to take advantage of bargain prices.
Median home price
2006: $480,000          63% Increase
2011: $784,000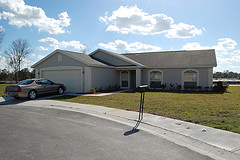 4. Lakeland, Florida. Here in lakeland, a house goes for a fifth less than the national median of $227,500, and Lakeland is just 30 minutes from Tampa, which is swarmed with 2.7 million people that's projected to add almost 210,000 more residents over the next five years. Not to mention, Meritage Homes, one of the fastest-growing U.S. builders, plans to build more than 1,300 homes in the area by 2008.
Median home price
2006: $178,000          59% Increase
2011: $282,000
5. McAllen, Texas. This place is mainly latinos, 80% at that, and experts are saying that Latino families are larger than the average caucasian families. At 3.8 members being latino and , on average, and compared with 2.4 for Caucasians. "These border towns have a housing shortage," Cochrane says. "There's pent-up demand. They'll be looking for more space and better space."
 
 
Median home price
2006: $70,000         57% Increase
2011: $109,000